Sunblock is the most important skin care product for everyone no matter the skin type, especially for those who work or spend most of their day outdoors. Even if you don't work outdoors, sunscreen is a must to wear when you are travelling to your college or office. The harmful UVA/UVB rays from the sun can damage your skin leading to premature aging, dark circles, tanned skin, pigmentation, fine lines, wrinkles and rashness. A good sunscreen can protect your skin from sun-damage and a number of skin problems. There are hundreds of sunscreens available on the market which makes it a bit challenging to pick the best one for your specific skin type. In this article, I have compiled a list of the best sunblock in Pakistan for different skin with their review so that you can find the best sunblock in Pakistan that suits your skin's requirements.
Why is Sunblock Important?
Unless you have been living in the caves, you must be aware of the significance of applying a top-quality sunscreen. Using sunblock every day should be a necessary step of your skincare routine. It helps in protecting the skin of your hands, face, and other parts of your body that are exposed to the dangerous rays coming from the sun. There are numerous reasons why should include a good quality sunblock in your skin care regime such as:
It lowers the risk of skin cancer such as melanoma.
Daily application of sunscreen helps in achieving an even skin tone
Sunscreen reduces the penetration of harmful UV rays into your skin protecting it from getting sunburnt.
Frequent application of sunscreen protects your skin from overexposure to sun. It prevents wrinkles and fine lines and allows you to have a glowing and healthy-looking skin.
Sunscreens not only protect your skin from the dangerous sun rays, it also saves the proteins in your skin which keeps your skin healthy and smooth.
How to Apply Sunscreen?
Sunblock is more effective when you wear it at least thirty minutes you go out under the sun. This ensures that sunscreen is well set in its place and is ready to protect your skin. Also, make sure you wear sunscreen on all the areas that are exposed, including your ears. Apply your sunblock lavishly on the exposed areas to keep the skin safeguarded from the sun's harmful rays.
Things to Consider When Buying the Best Sunblock in Pakistan
Don't Compromise on Quality
Your sunscreen should say "broad spectrum" on the label. This means that the product will protect your skin from both UVA and UVB type of rays. Pay attention to the label as many sunscreens only prevent UVB rays. Pick up the sunscreen with SPF higher than 30 to get adequate protection.
Pick What is Best For Your Skin Type
Knowing your skin type is the first step for finding the right skin care product for yourself. It helps you choose the right ingredients and get what you aim for. For dry skin, sunscreen with hydrating ingredients such as ceramides and hyaluronic is the best choice. For oily skin, pick the product that gives a matte finish. If you want to get the shine for the whole day, look for lighter gel formulations.
Know Different Types of Sunscreen
For medium-to-dark complexion, pick a chemical sunscreen as they get absorbed into the skin without leaving any traces. On the other hand, mineral or physical sunscreens sit on the surface of the skin and shield it from the UV rays and often leave a white cast on the skin. Both chemical and mineral sunscreens have their pros and cons and provide equal protection. Which one you pick is more of a personal decision. However, if you have sensitive skin, choose a mineral formula and apply it in sections and rub it thoroughly to sheer out the product.
Apply it Last
Sunscreen should be layered on the freshly washed and cleansed skin. If you have other skincare products in your daily skincare routine, sunscreen should go last after moisturizer or serum but before you apply your makeup.
Best Sunblocks in Pakistan
Selecting the best sunblock in Pakistan, to a great extent, depends on the type of skin you have. Go to HGSCosmetics.com and choose from a huge collection of sunscreens and get the one that best suits your skin type.
Sun protection is absolutely necessary in every season whether its summer or winter. If you are looking for the best sunblock for your skin type or you want some questions about sunscreens to be answered, you have come to the right place. In this article, I have listed down some of the best sunblock in Pakistan along with their review, which ones are suitable for which type of skin and I will also tell you where you can find the genuine products at reasonable price.
Dr Rashel
Dr Rashel Gold & Collagen Anti-Aging Sunscreen SPF 100 is a highly effective "sun cream" with SPF of as much as 100. You will not find any sunscreen that offers as much SPF. It has anti-aging properties and it provides long lasting protection from UVA and UVB. It comes with an advanced protection system. It is extra waterproof but still it will not make your skin greasy. The creamy texture feels light and smooth on the skin which makes it super comfortable to wear.
Another good quality sunscreen by Dr Rashel is SPF 75 Whitening Sun Cream. It is a moisturizing cream containing broad-spectrum UVA & UVB protectors. It is water-resistant can protect your skin for as long as 4 hours. The formula is free of parabens and sulphates, and it leaves your skin smooth, glowing and healthy.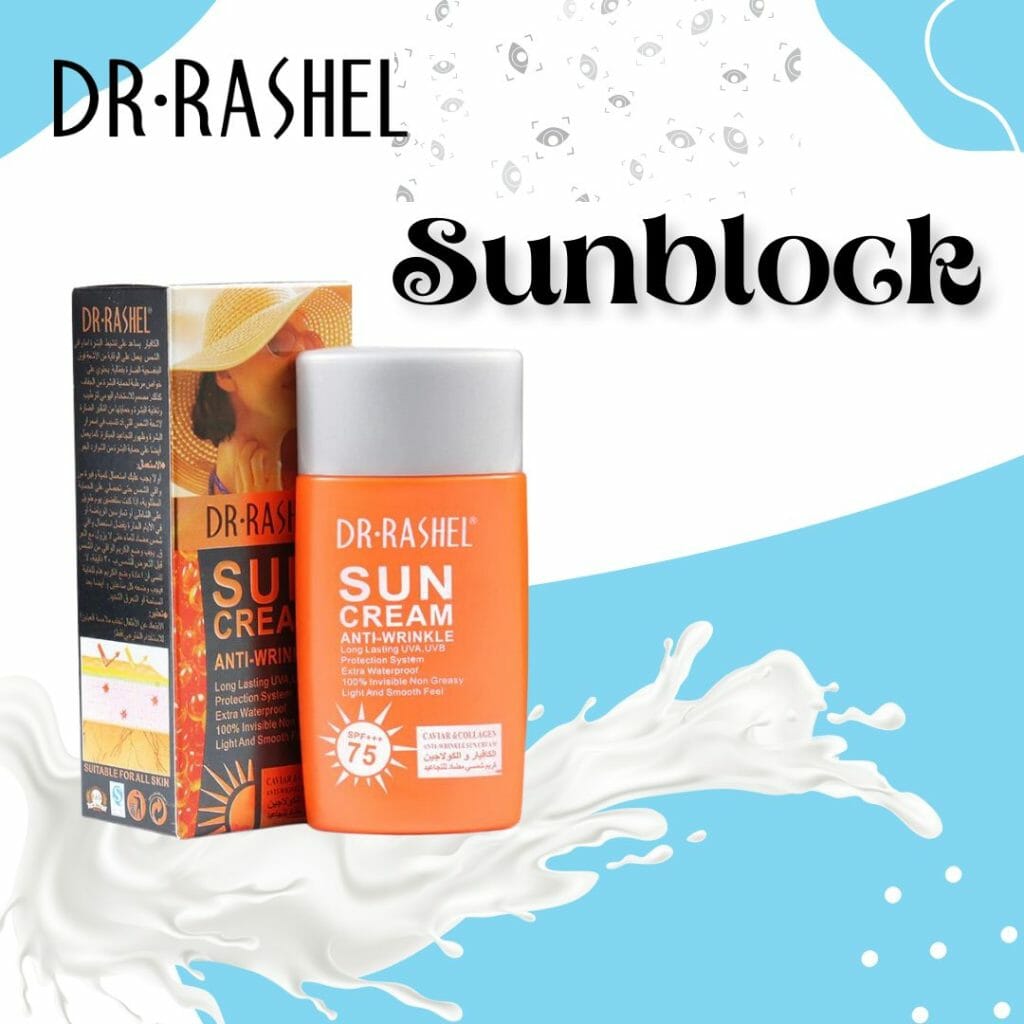 Neutrogena
Neutrogena is a high end brand of skincare and hair care products not only in Pakistan but also around the world. It offers some of the most effective and powerful sunscreens. One of the most powerful sunblock by Neutrogena is Neutrogena Ultra Sheer Dry-Touch SPF-100+ Sunscreen. It offers an effective defense against UVA and UVBs. It has a lightweight texture that rapidly absorbs into the skin making it comfortable. It is formulated with Helioplex Technology which provides effective broad-spectrum defense.
Neutrogena Ultra Sheer Dry Touch SPF-70 Sunscreen is another wonderful sunblock by Neutrogena. It too has helioplex technology which provides powerful defense against photoaging, sunburn and skin cancer. It is non-comedogenic, paraben-free, lightweight, fast absorbing and it won't leave greasy feeling on your skin.
Also, you might want to get your hands on Neutrogena Beach Defense SPF-70 Sunscreen Spray. It is a highly water-resistant sunscreen that can protect your skin from both sun and water damage. The spraying nozzle makes it super easy to apply, especially on the hard-to-reach areas. It can shield your skin from damage for up to 80 minutes under the water.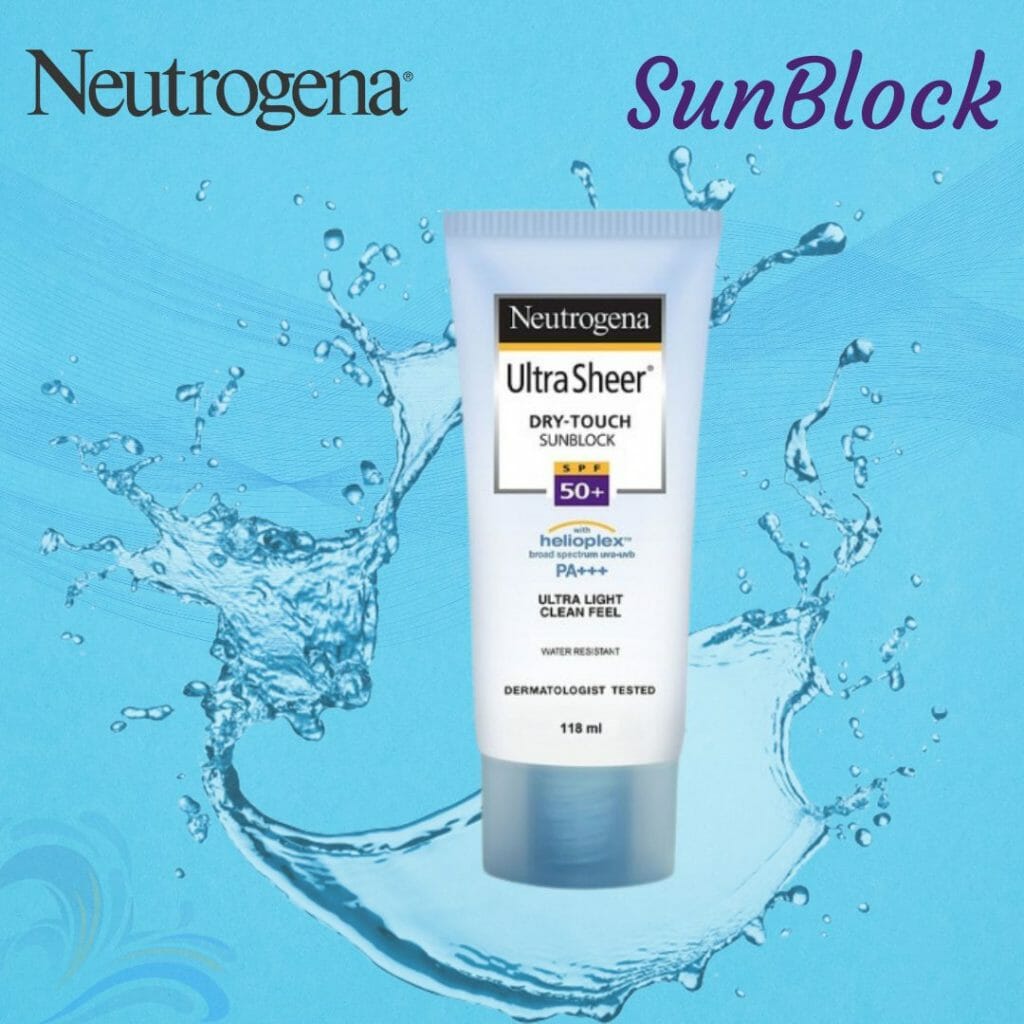 Kiss Beauty
Kiss Beauty is a fast growing brand of cosmetics and skincare products in Pakistan. It creates products using the safest ingredients and the key ingredient in most of the products is mostly something organic. Kiss Beauty offers a collection of sunscreens formulated with various nourishing ingredients like aloe vera and green tea.
Kiss Beauty 24K Gold Continuous Sunscreen Spray comes with a revolutionary formula containing 24K gold which is powered by nanotechnology. It comes with SPF 60 which delivers broad spectrum protection to your skin while moisturizing and nourishing your skin. Its formula is lightweight and non-greasy and it absorbs quickly into your skin making it suitable for oily skin.
Kiss Beauty Aloe Vera Sunscreen Spray is another wonderful product by this brand. It has SPF of 50 which protects your skin from UVA/UVB and infrared rays and pollution as well. It has a waterproof formula which is lightweight, non-greasy, and non sticky making it suitable for all skin types. The water-based formula is enriched with aloe vera extracts that sooth your skin preventing dryness, roughness and photoaging.
Kiss Beauty offers another worth trying sunscreen; Green Tea Sunscreen Spray. It has a creamy texture that absorbs into your skin with ease. The formula is rich in nourishing and moisturizing ingredients that hydrate your skin while safeguarding it from sunburn, dryness, and premature aging.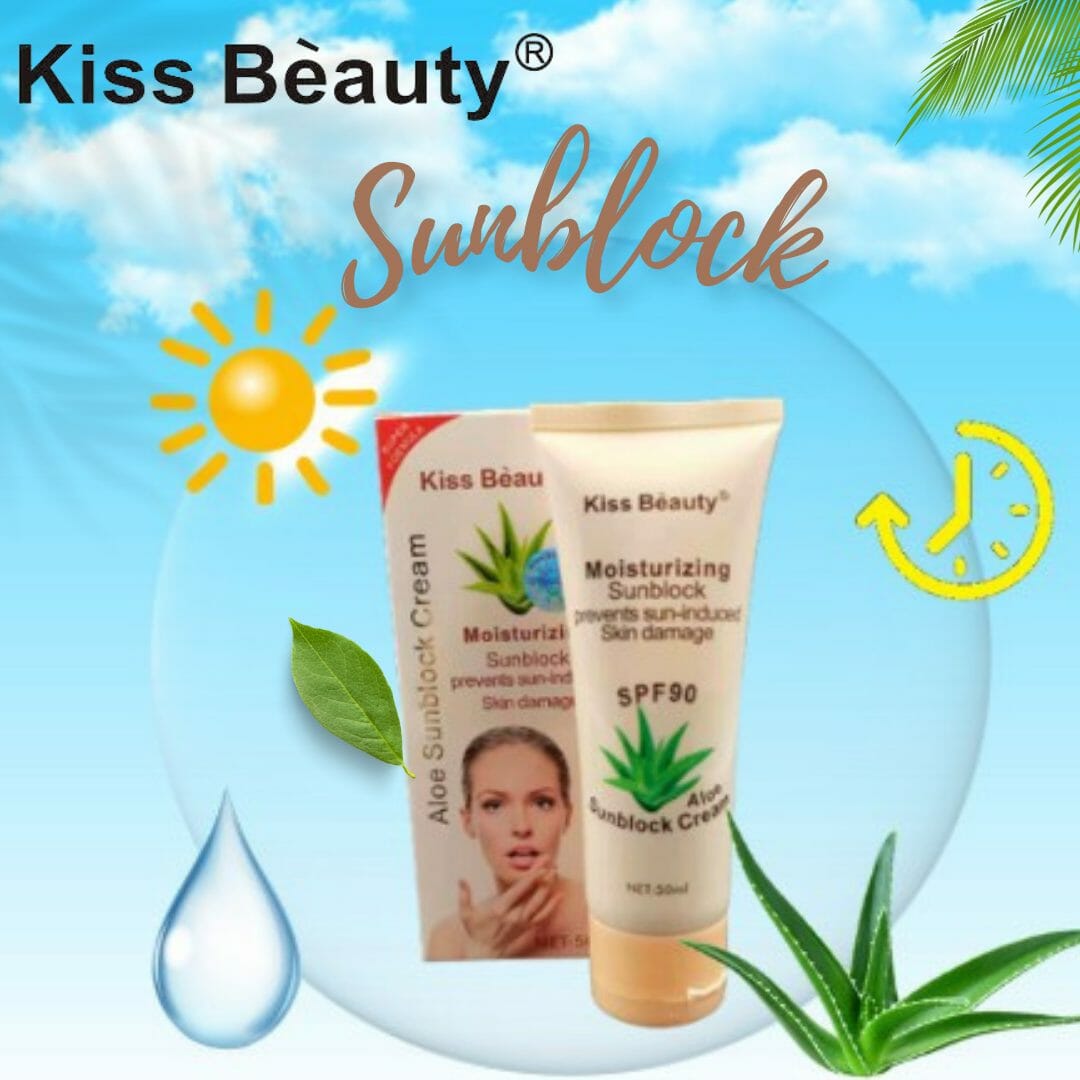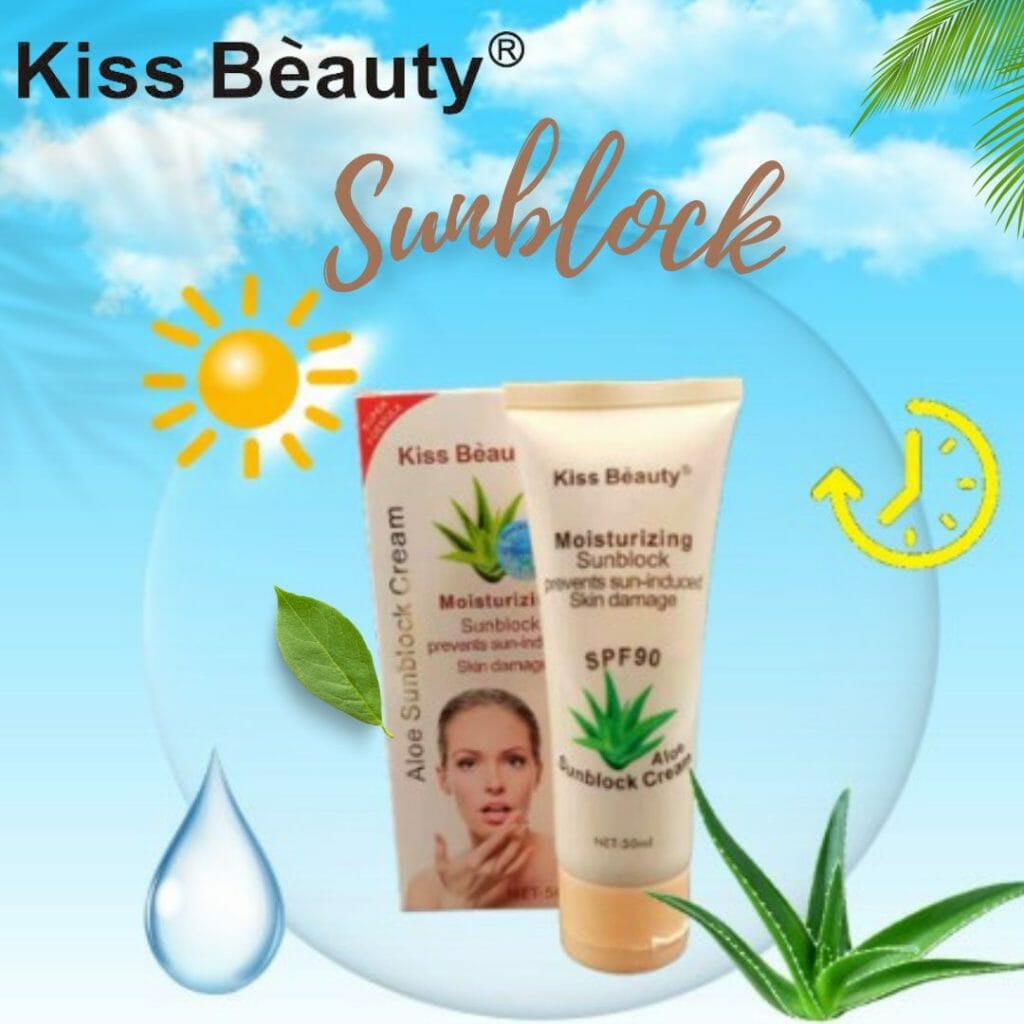 Solarin
Solarin 60 Anti Oxidant Sunblock Day Cream is a complete solution to protect your skin from sun damage. It provides broad-spectrum protection safeguarding your skin from sunburn, wrinkles and leathery texture. It is formulated with ingredients that have medicinal properties such as sulfa pharmaceuticals, tetracyclines, and phenothiazines which work by both absorbing and reflecting ultraviolet rays preventing it from reaching the deeper layers.
It is a mild sunblock that you can wear everyday. It has a soft creamy texture that is suitable for all skin types. The SPF 60 effectively protects your skin from dark spots, skin darkening and premature aging.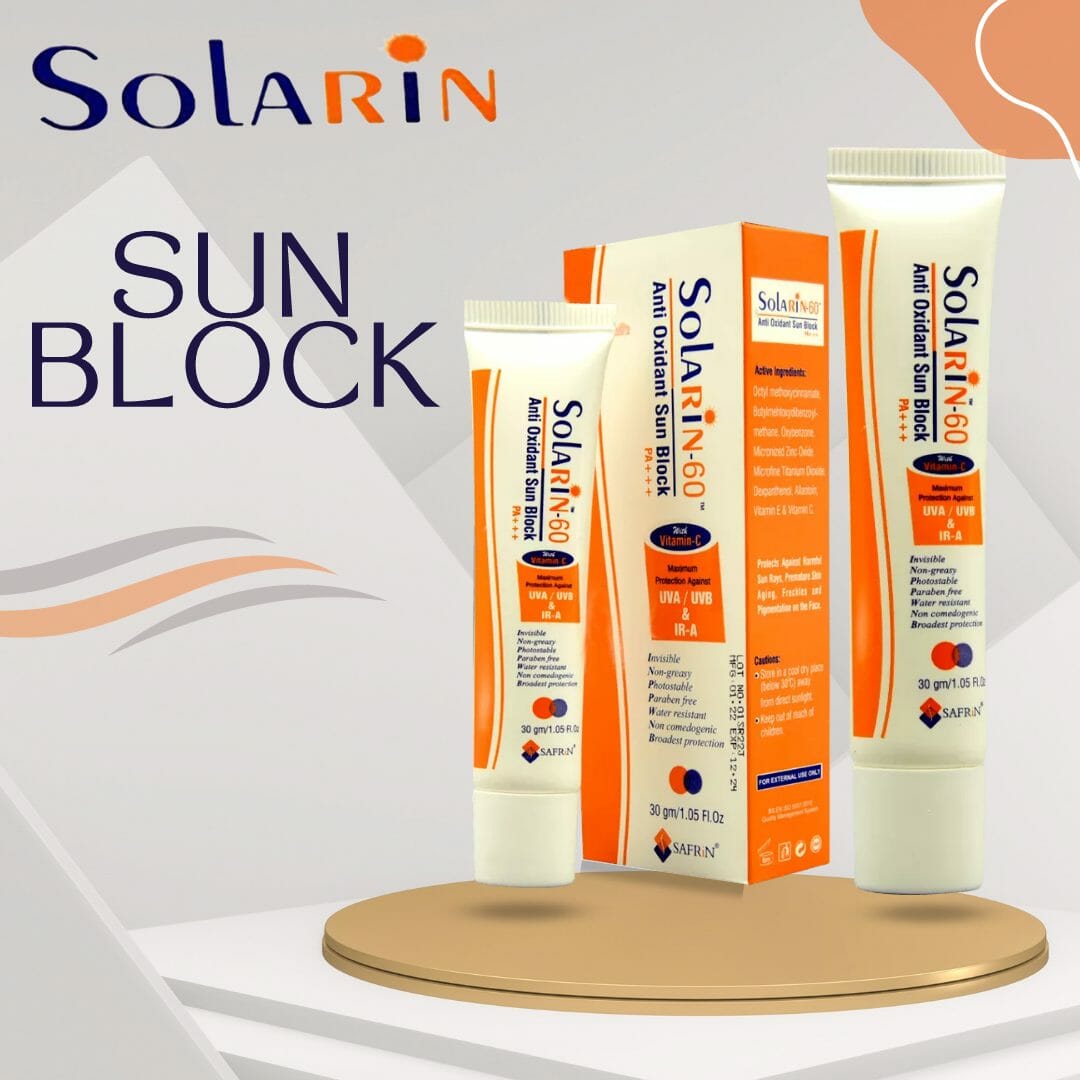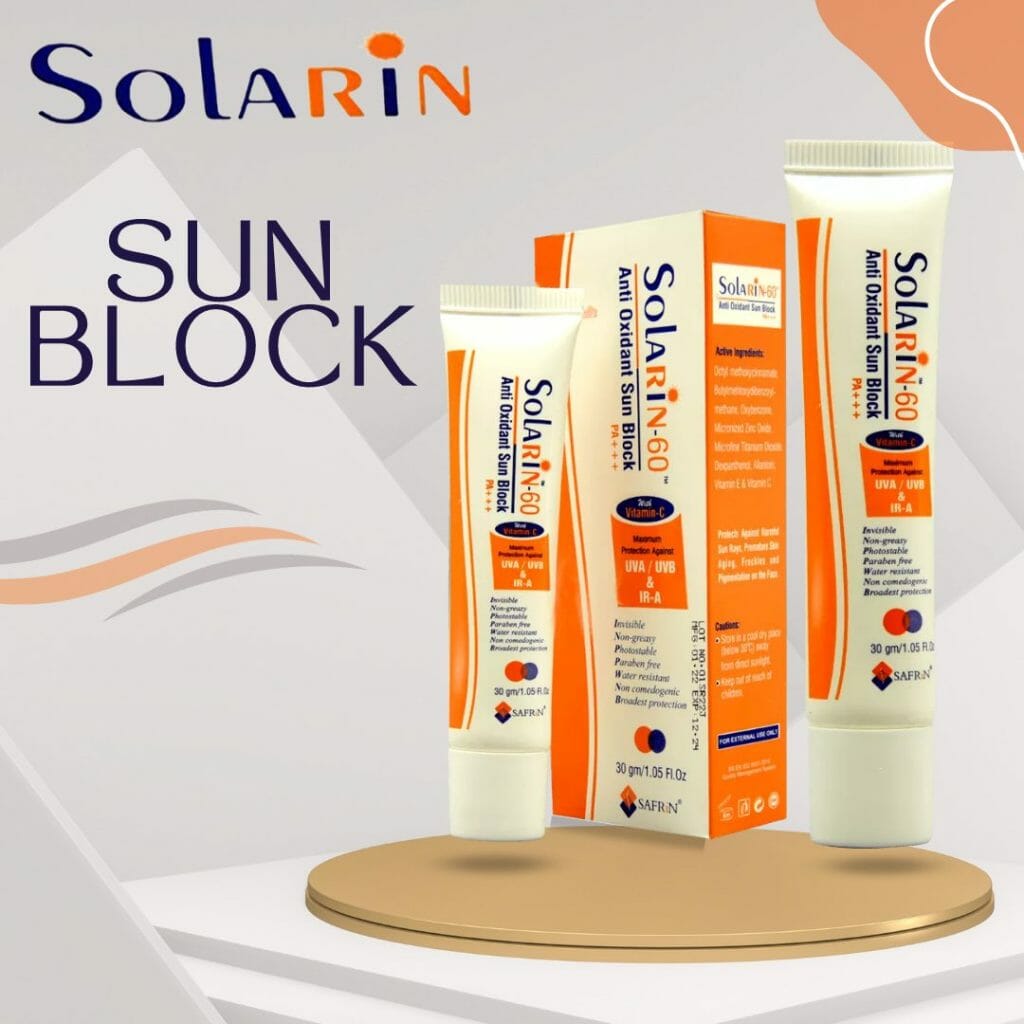 Estelin
Estelin Sun Cream SPF 90 For Anti-Aging & Whitening protects your skin from UVA and UVB rays. It is a whitening and anti-ageing sunscreen. It prevents premature skin ageing and pigmentation while moisturizing, lightening and keeping your skin looking young. It contains antioxidants such as vitamin A and niacinamide that nourishes your skin and even out skin tone. You can use it under makeup and you will have to top up every 2 hours if you are going to spend most of your day under the sun.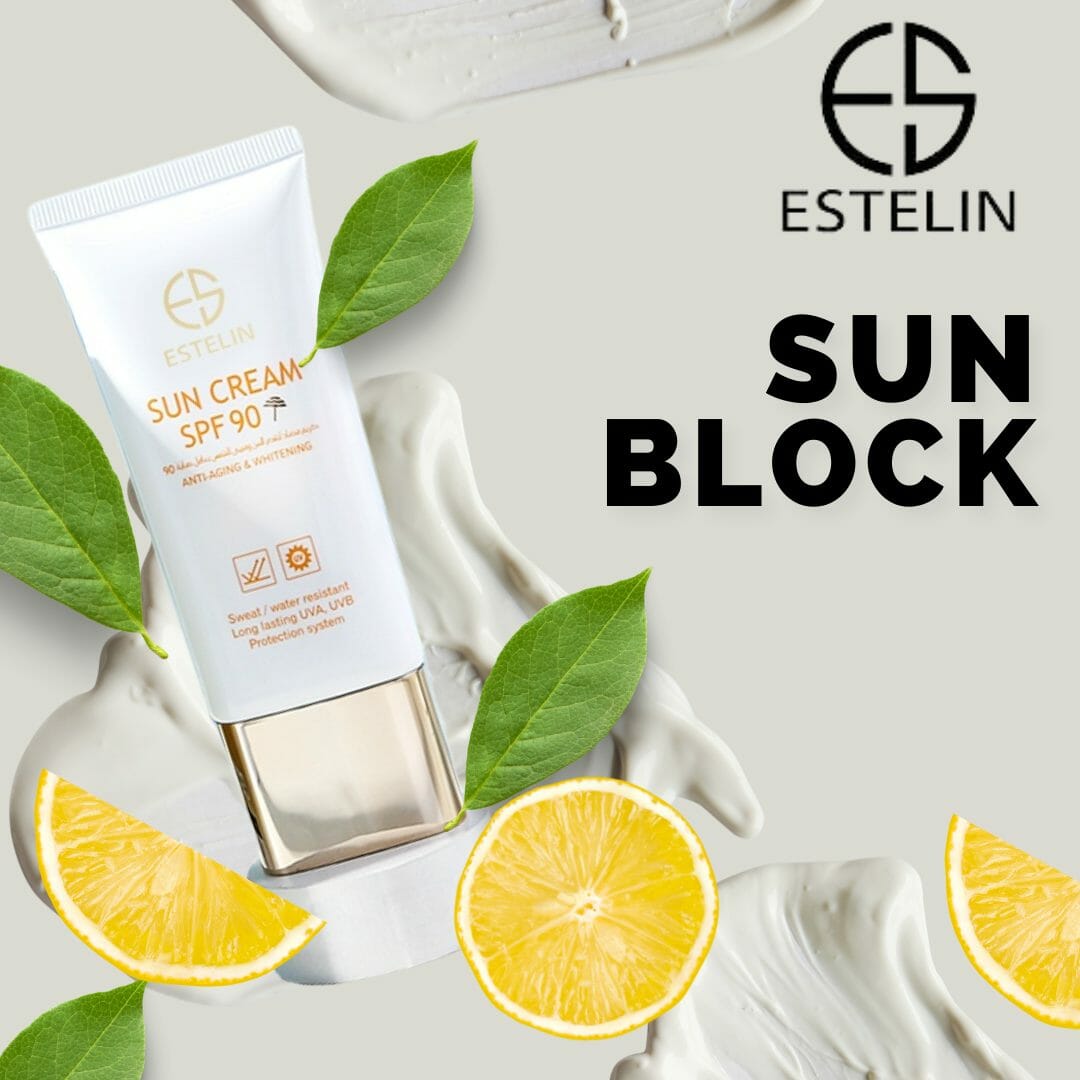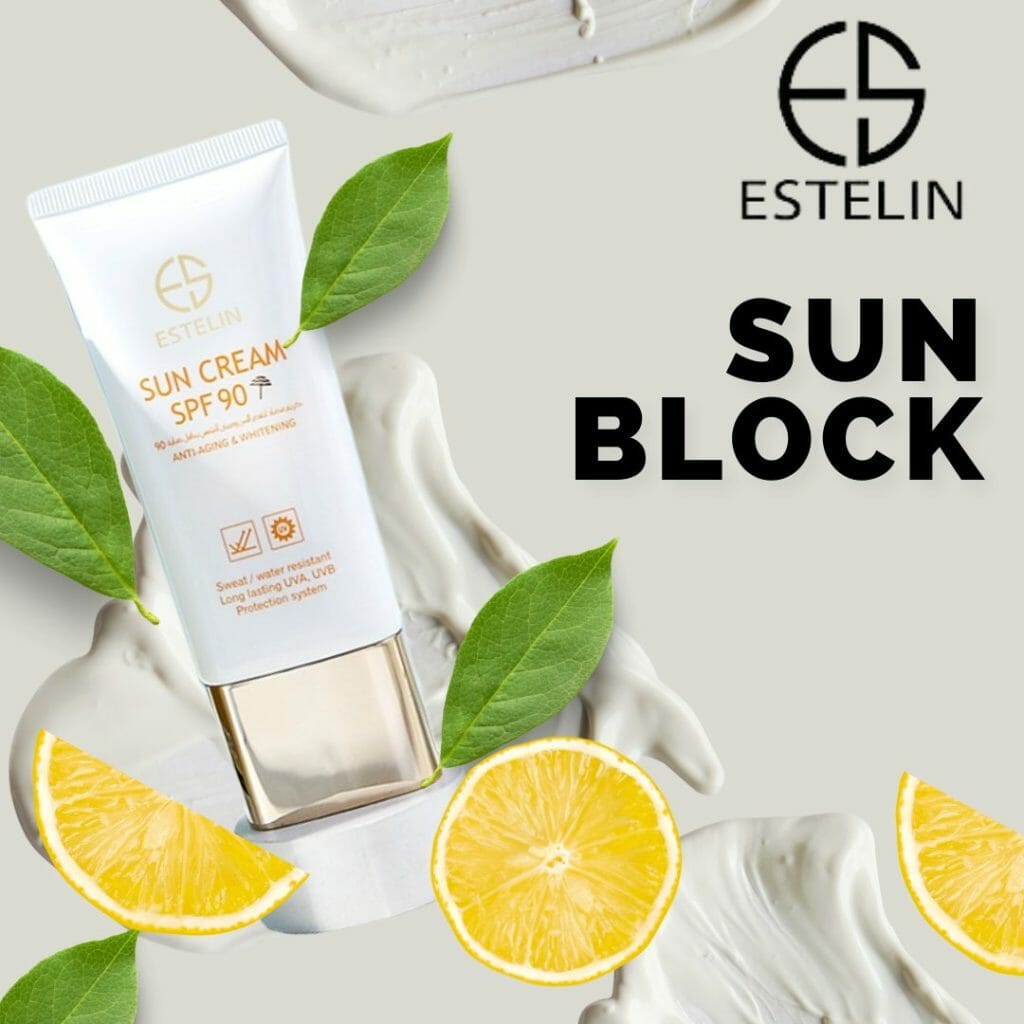 Some Myths About Sunblocks
Some individuals who are conscious about their skin may buy into common myths and stop using sunscreen that can have detrimental effects to your skin.
Some of the most common myths about sunscreen are as follow and some of them are actually believable.
Myth # 1 Sunscreen is not needed if you spend most of the day indoors
Sunscreen is essential even if you spend most of your day indoors, especially if you sit by a window in your office or home.
Sun rays have two types of ultraviolet rays; UVA and UVB. Both of these rays are equally damaging for your skin and can cause skin cancer.
Window glass only blocks UVB and UVA can penetrate through. Overexposure to UVA rays through windows can cause skin ageing, fine lines, wrinkles and increase risk of cancer.
Myth # 2 It's safe if the sun isn't buring/ Base tan prevents sunburn?
There is no such thing as a "healthy tan" or a safe "base tan."
Tanning is caused by permanent skin cell damage, just like a sunburn. The immune system sends repair enzymes to the area damaged by sun where they build up a wall of darker pigment to prevent more sunburn. But, it is never perfect and the damage causes mutations in the skin cells.
Myth # 3 Sunscreen prevents the body from getting necessary vitamin D
Vitamin D is essential for us as it improves a healthy immune system, promotes bone growth, and it is very effective for staving off certain diseases such as osteoporosis.
No matter how high the SPF level of your sunscreen is, or how much you apply, some of the UV rays still manage to reach your skin.
Myth # 4 Ingredients in sunscreen are harmful.
All the ingredients used in sunscreens are approved by the FDA. But there are some ingredients that are questionable such as oxybenzone. However, there is no evidence saying that oxybenzone is harmful.
Chemicals like avobenzone and oxybenzone, along with various others, absorb UV rays and prevent them from penetrating into the skin.
The naturally occurring inorganic ingredients such as titanium dioxide and zinc oxide stay on the surface of the skin and deflect ultraviolet rays.