Our skin is exposed to several pollutants as we go about our daily lives. It means that our skin needs cleaning and proper moisturising too on a daily basis. This is where a night cream comes into play. You can use it to keep your skin healthy and hydrated without causing skin issues like blocking your pores leading to breakouts.
No matter how young you are or what skin care habits you have, you can never go wrong with incorporating night cream into your daily skin routine. Today, there are several night creams on the market. They come in different textures, ingredients and benefits. A night cream is designed to brighten and repair your skin while you sleep.
Night creams usually contain ingredients such as retinoids and retinol for graceful ageing. These ingredients improve collagen production in your skin and improve cell turnover. These ingredients are best to use at night because they can cause sun sensitivity.
Online shopping stores such as HGS Cosmetics host various products from brands including Himalaya, Nivea, Parachute, and many others. However, before you shop for some of the best night cream in Pakistan, here are some of the things you need to give attention to:
Factors to Consider in Your Night Cream
Skin Type
The skin type also plays a crucial part in buying a night cream. Moreover, it is important to remember that your body's skin type may differ from the skin type of the face. So, you can have a kind of oily face but sensitive and dry skin for all other parts. This is why we have different night creams for our faces and our bodies. So, let us have a look at both so that you can make a well-read decision.
If you have dry skin that feels tight after washing, you can benefit from a night cream that contains moisturising ingredients such as hyaluronic acid and ceramides. For oily skin, you should use night cream that has hydrating ingredients along with some skin nourishing ingredients such as vitamin C. If you have combination skin with dry cheeks and an oily T-zone pick night cream with hyaluronic acid, ceramides, vitamin C, glycolic acid and alpha hydroxy acid.
Season
Season plays a critical part in identifying the hydration wants of the skin. If it is the summer season, you want a light night cream. However, the summer season is dry, and if you live under these conditions, you want some deep but light night cream to keep your skin hydrated and healthy. Similarly, during the monsoon season, you want a mild night cream to keep the skin appropriately moist. If you live near coastal areas, you can go for a very light pack and easy to absorb night cream. Whereas, during the winter season, your skin wants heavy-duty night cream to keep it hydrated.
Night Cream for Your Face
If you are someone who has dry skin, then it is obvious that you need a night cream. It is also possible that your skin requires day-to-day moisturising, depending on where you are currently living. In the same way, if you have normal skin, then your hydration plan should depend on the season, your geographical location, and your skin's exposure to extreme pollution. Now, there might be some folks who do not believe that oily skin wants moisturization. But, it is crucial to remember that people with oily skin frequently wash their faces to get rid of oil from their pores. This frequent removal of oil can form an imbalance in your face's moisturization threshold, leading to more oil production. A night cream can help restore this balance and even reduce the production of unwanted oil.
Night Creams for Your Body
Your body's skin plays a vital role in your choice of buying a night cream. If you have dry skin, you should opt for a deep night cream or lotion. If you are someone who has sensitive skin, you should go for aloe-vera-based night creams for the body, or you can try different types of night creams to find the one that suits your skin the best.
The above-mentioned are some of the factors that affect your choice of shopping for a night cream for yourself. So, know your skin better and then move forward and shop for the product that caters to your needs the best.
Key Ingredients in Night Cream
Retinoids
Retinol is a derivative of vitamin A and is one of the most common versions of retinoids. Retinol has small molecules that penetrate the skin and neutralise free radicals. It increases collagen and elastin production which minimises wrinkles and fine lines for a youthful looking skin. Retinol improves new skin cell growth and cellular turnover helping to slough off dead skin cells for new, healthy cells.
Retinol also helps in diminishing pigmentation and achieving even skin tone. This ingredient is best to be used at night time because it makes your skin photosensitive. You need to use SPF 30+ the next day to protect your skin from sun damage.
For those who have sensitive skin, retinol may not be a good choice. They can use a night cream with bakuchiol which is retinol's alternative. It has similar benefits as retinol but without the irritation.
Antioxidants
Antioxidants are great for your body, whether you take them in diet or apply topically. They fight off free radicals, address sun damage and redness, and protect your skin from the harmful UVA/UVB rays. Pick a night cream that has vitamin C and vitamin E as they are packed with antioxidants. Vitamin C also helps in brightening the skin, improving collagen production and reducing discoloration.
Hyaluronic Acid
Hyaluronic acid is a major hydrating ingredient in skincare products that restores the natural protective barrier on the skin. It is a humectant that provides a thousand times more hydration to your skin than. Hyaluronic acid penetrates into the skin and pulls water from the surrounding to hydrate the skin.
Alpha Hydroxy Acids
It is a chemical exfoliant that removes dead skin cells and clears out pores and corrects and prevents anti-aging benefits. AHA exfoliates the skin by disrupting the bond between the outer layer of the skin and the dead skin cells. Glycolic acid is the strongest AHAs as it penetrates deeper due to its small molecular size to stimulate collagen production. It is especially effective at treating hyperpigmentation and acne mark by removing excess sebum and clearing pores.
Best Night Cream in Pakistan
Golden Girl Cosmetics
Golden Girl Cosmetics is a famous brand of skincare items in Pakistan. It formulates a wide range of products with skin-friendly natural ingredients. Its Ubtan Night Cream is one of the best night cream in Pakistan at a very reasonable price. It has a nourishing formula that is enriched with antioxidants and botanical extracts that replenishes your skin overnight. Some of the key natural ingredients in it are Aloe Vera, Shea Butter, Glycerin, Green Tea Extracts and herbs. It works to reduce wrinkles, fine lines and other signs of ageing while promoting cell regeneration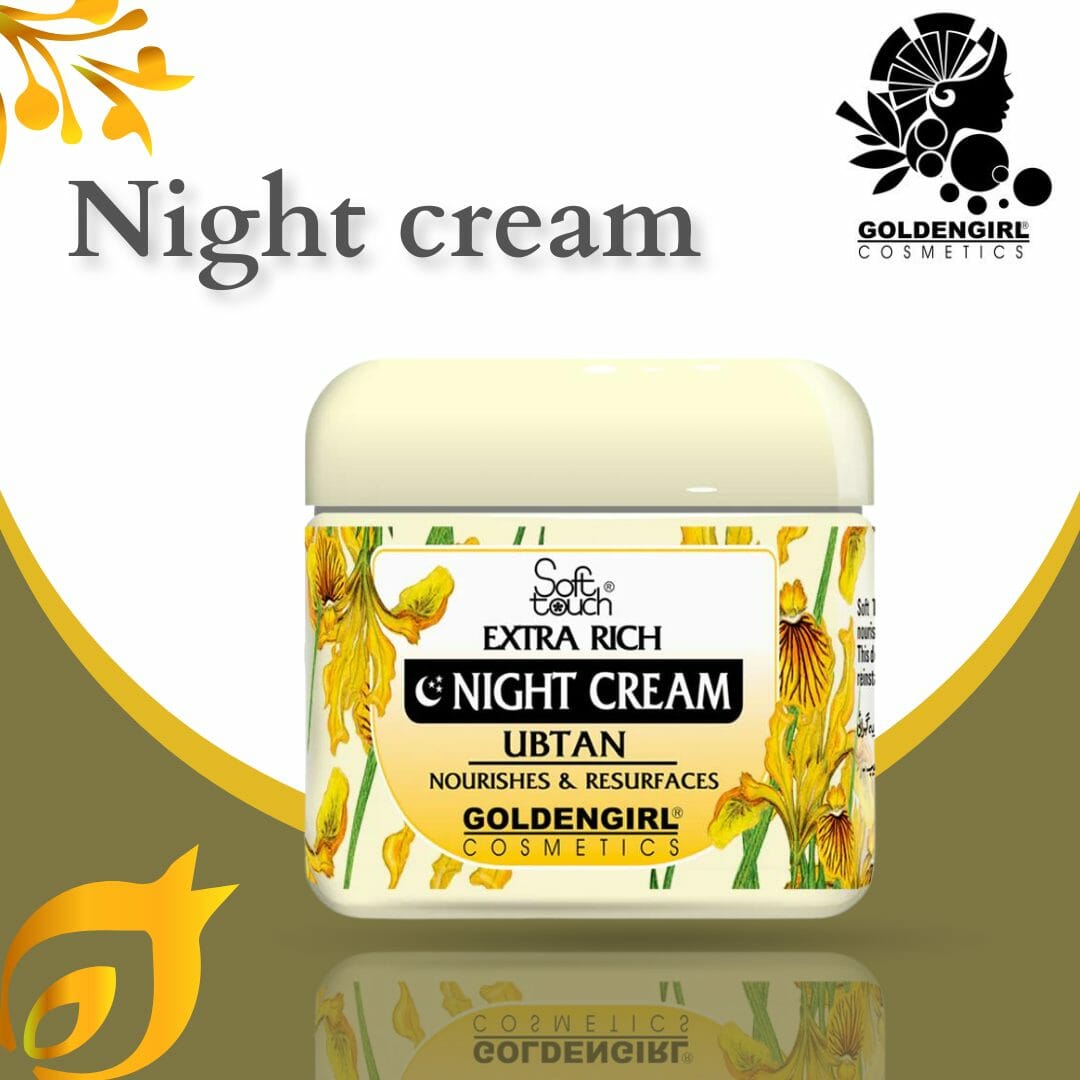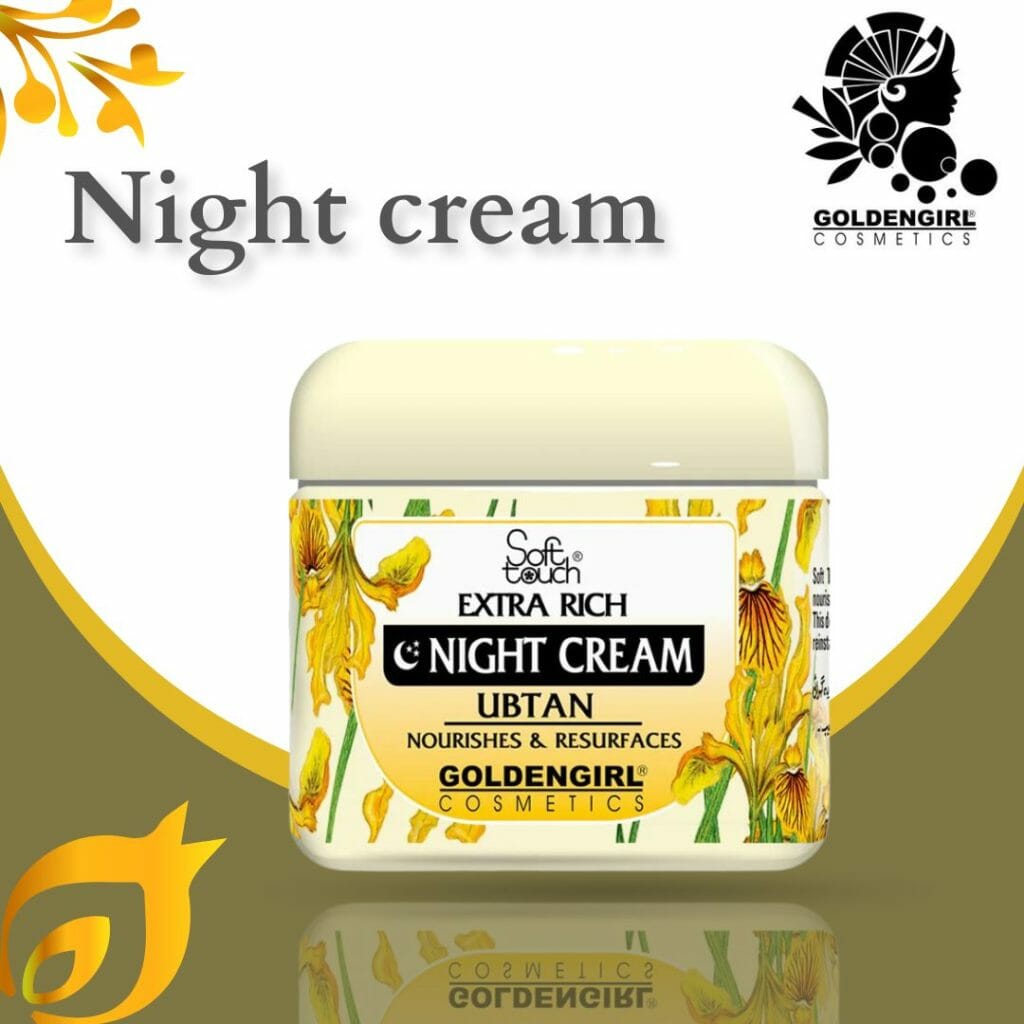 Pond's
Pond's is dedicated to help girls achieve their dream of beautiful skin with products powered by the best of science and technology. It offers a huge range of day creams and night creams. One of the best night creams by Pond's is Age Miracle Night Cream which has the most advanced anti ageing formula powered by retinol-C. It improves the overall radiance of your skin while minimising the appearance of creases, wrinkles and fine lines for a vibrant glow. The retinol-C complex in the ingredients boost collagen manufacturing while avoiding dryness giving your skin up to 3 times extra cell revival power.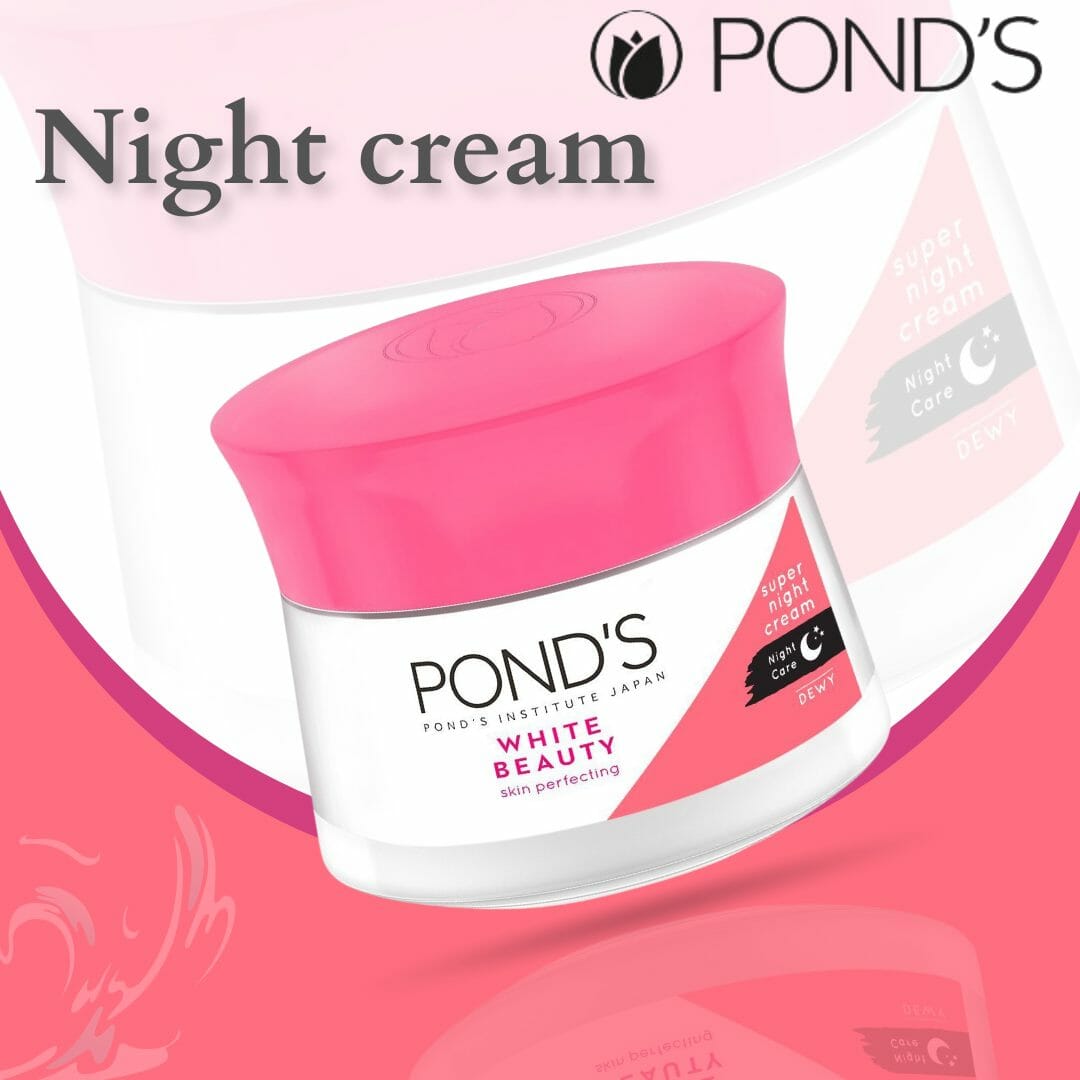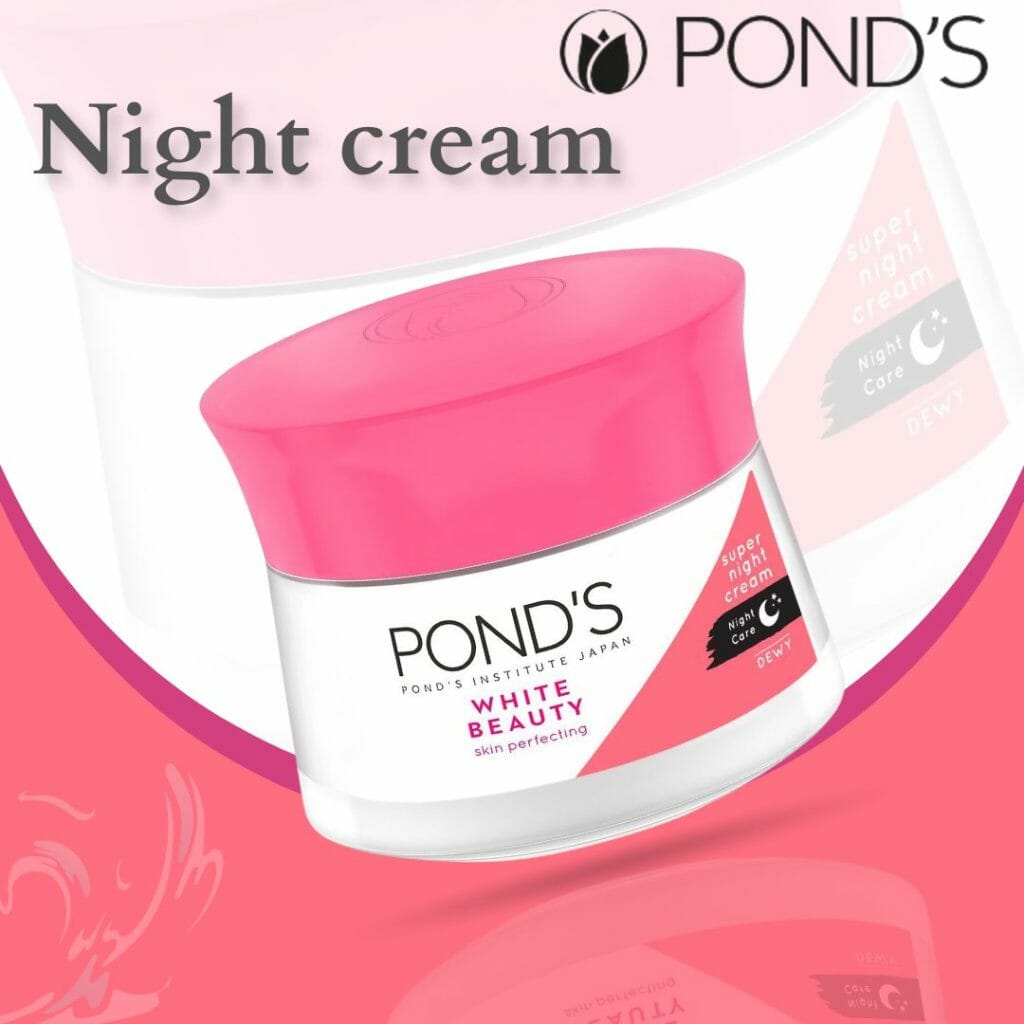 Nivea
Nivea is a proponent of modern skin care creating solutions for all skin types. It has developed numerous innovative skin care products from sunscreens, to deodorants to night creams. One of the best and worth trying night cream by Nivea is Pure & Natural Anti-Wrinkle Night Cream. Over 95% of its components are all-natural such as Organic Argan Oil, Aloe Vera, Glycerin, Citric Acid and Rose oils. These ingredients have beautifying properties and prevent moisture loss from the skin. It has panthenol which helps in regeneration of skin cells.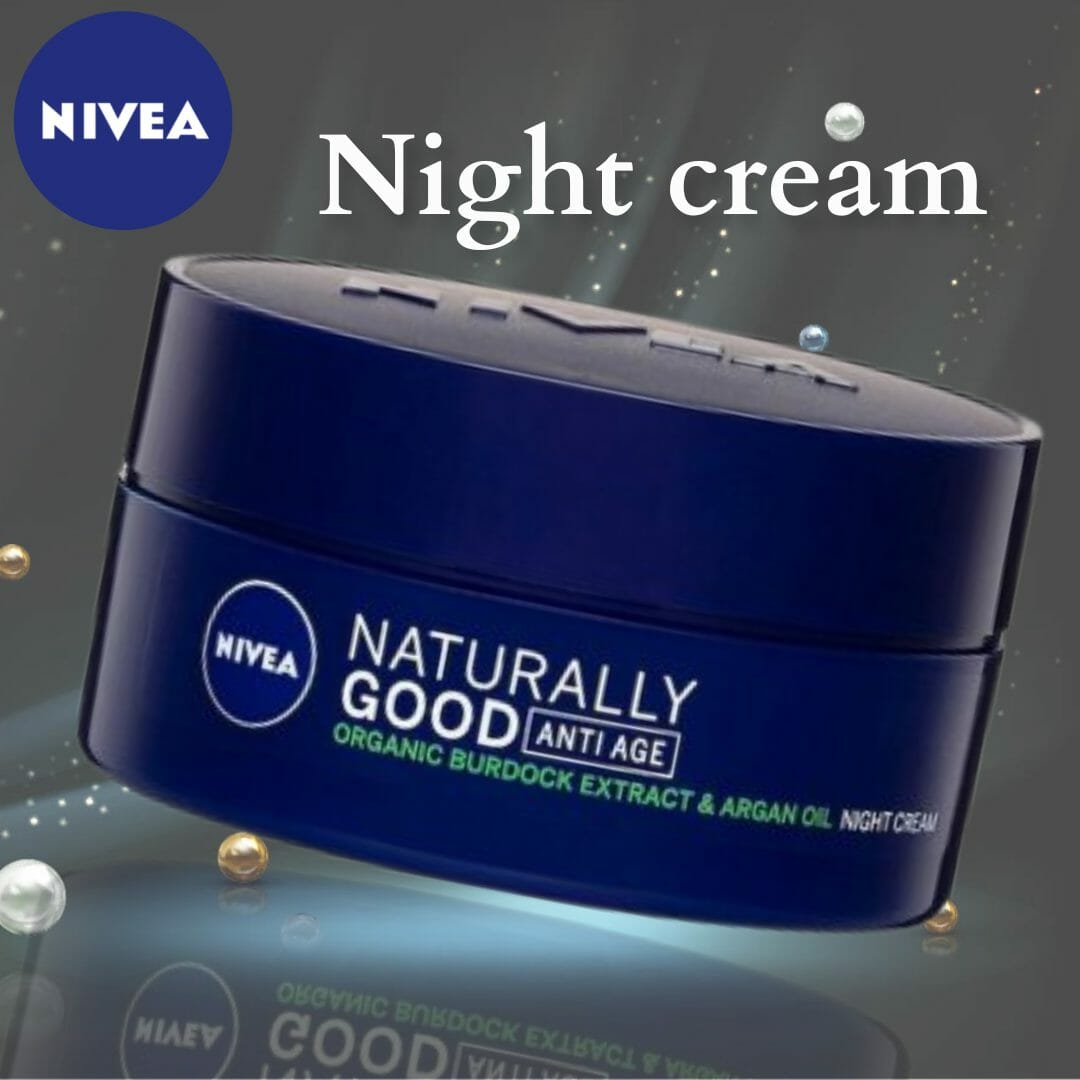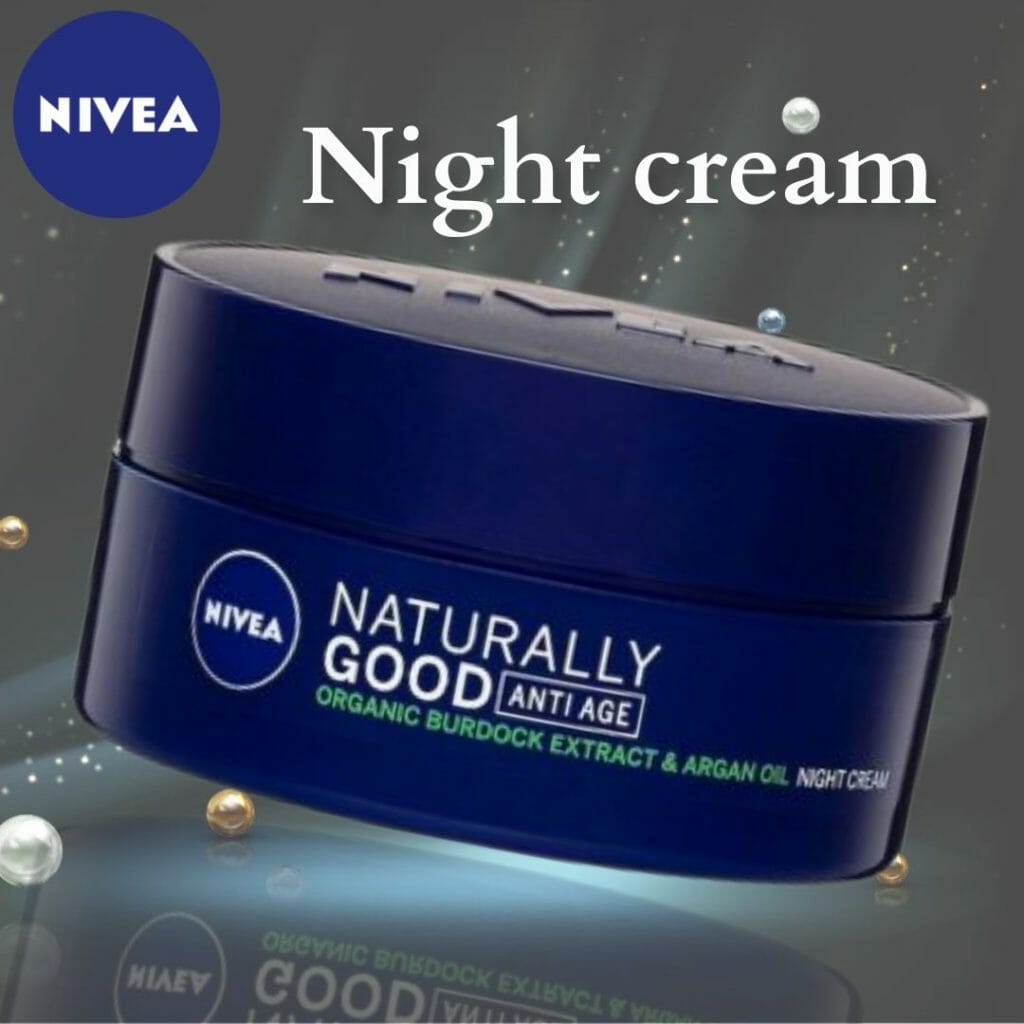 L'Oreal
L'Oreal Paris offers a stringent collection of the most advanced beauty care with proven efficacy and safety. It creates a world of Parisian beauty that inspires every woman around the world. It is committed to permanent innovation, scientific excellence and best quality to be the leading cosmetics and skin care brand in the world.
L'Oreal offers some of the most effective and high quality night cream in Pakistan such as L'Oreal Paris Hyaluron Expert Night Cream Mask. It is a non-invasive alternative to cosmetic procedures. It re-plumps your skin and improves elastin and collagen in the skin to remove fine lines, wrinkles and premature ageing. Its formula is packed with the maximum concentration of Hyaluronic Acid that restores moisture into the skin.
L'Oreal Paris Revitalift Moisturising Night Cream is another worth trying night cream by L'Oreal which gives smoother, firmer skin in just four weeks. It contains pro-retinol and stimuplex formula which is known for its awesome firming and anti-wrinkle action. It has elasti-flex technology which is specifically formulated to amplify the natural firmness of your skin.
If you are combating premature ageing, try L'Oreal Revitalift Laser x3 Night Cream Mask. It has Pro-Xylene and fragmented hyaluronic acid that works by decreasing wrinkles, improves elastin production and redensifies your skin. It makes your skin texture noticeably improved and makes your skin smoother.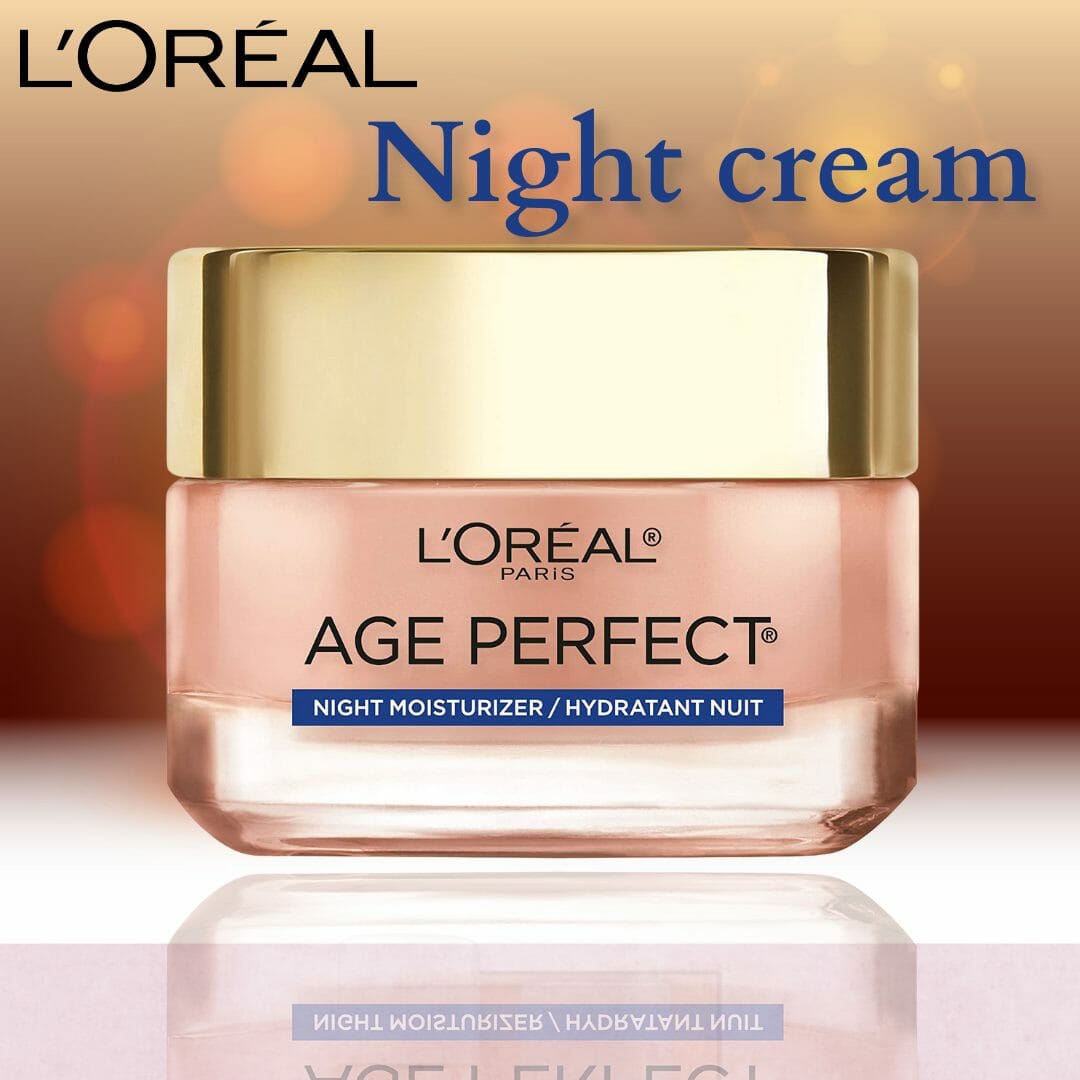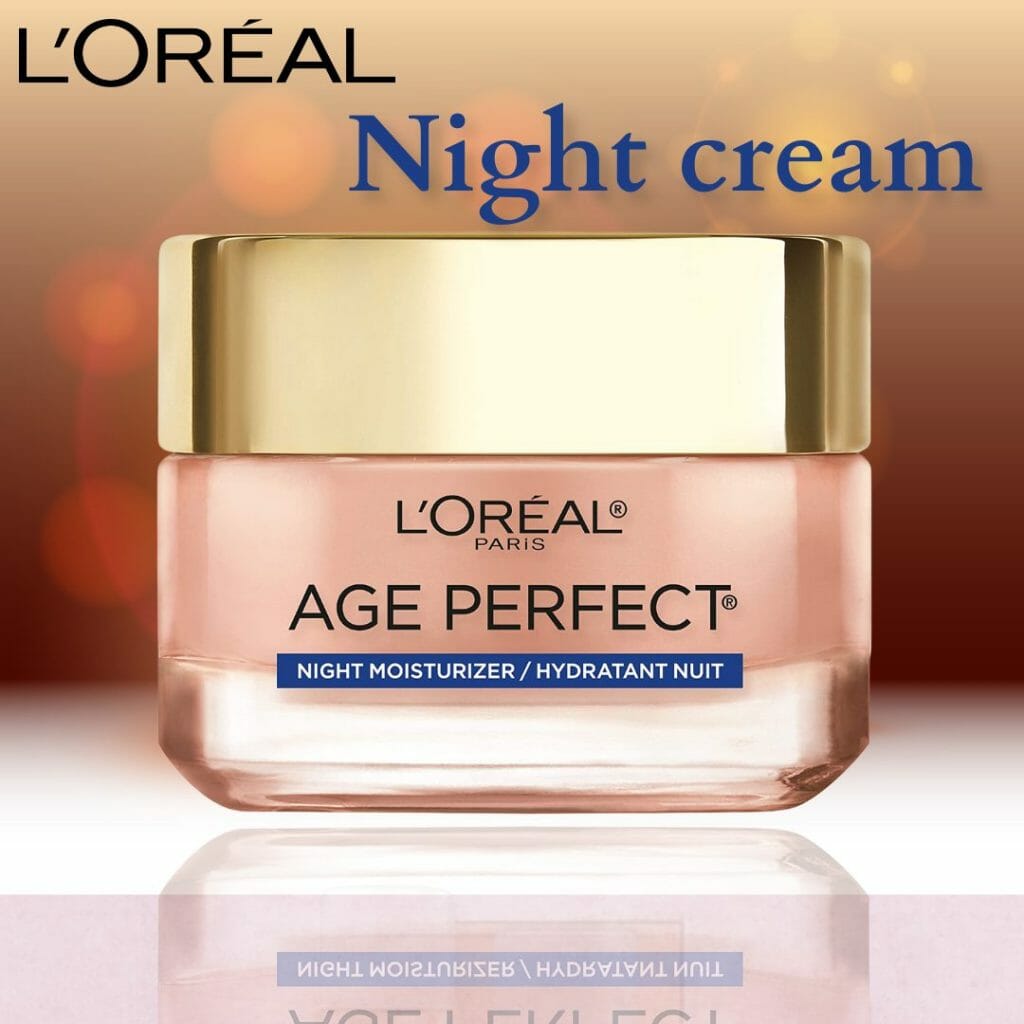 Neutrogena
Neutrogena is one of the most dermatologist-recommended skincare brands in Pakistan which offers some of the world's most trusted beauty and skin care lines. It has some of the best night creams to offer such as Neutrogena Cellular Boost Anti Ageing Night Cream. Its formula contains vitamin C and Hexinol. Vitamin C works to correct dark spots and uneven skin tone. Hexinol has anti ageing properties such as boosting natural collagen and elastin production. To get most out of this night cream, apply it daily on your face and neck at the end of your skincare routine.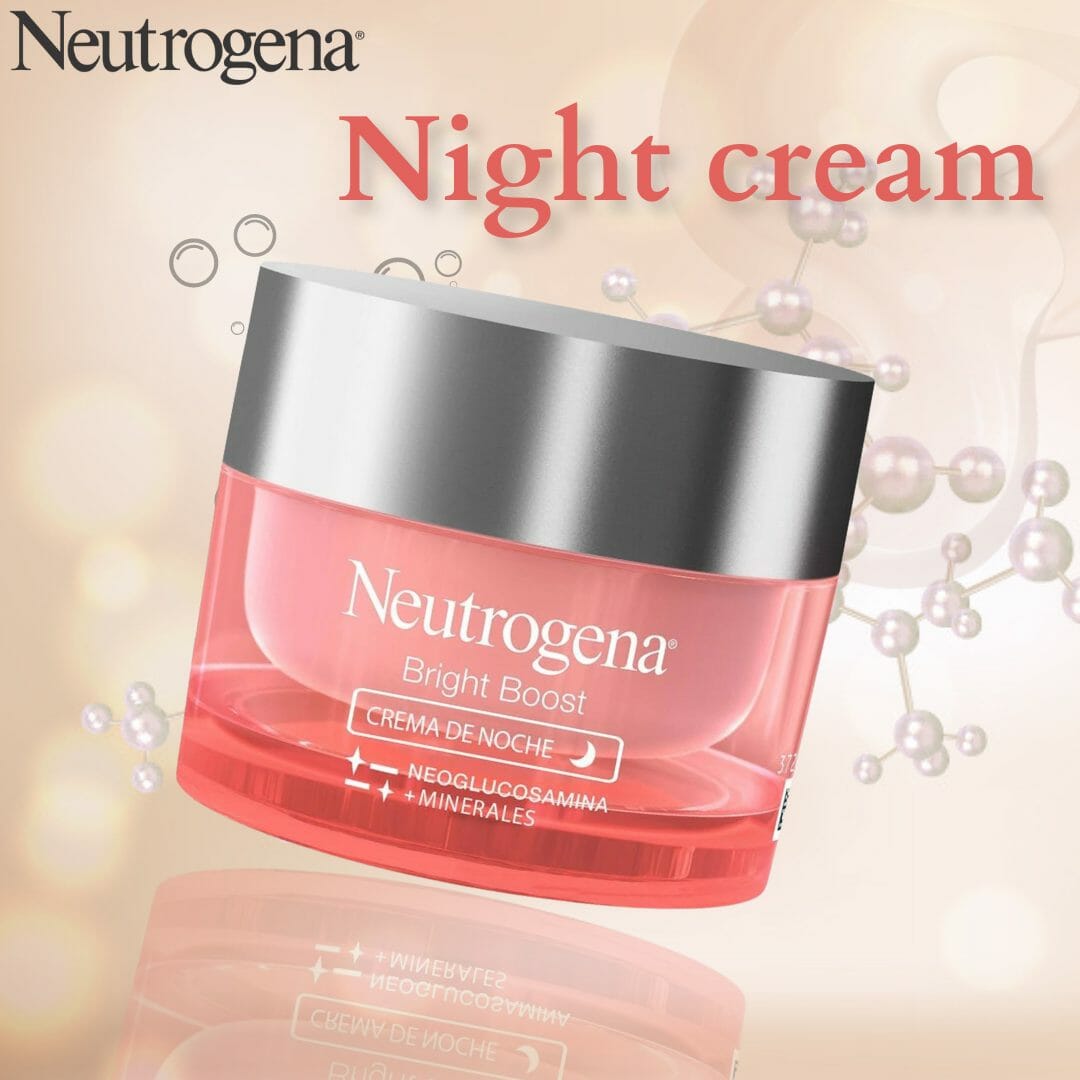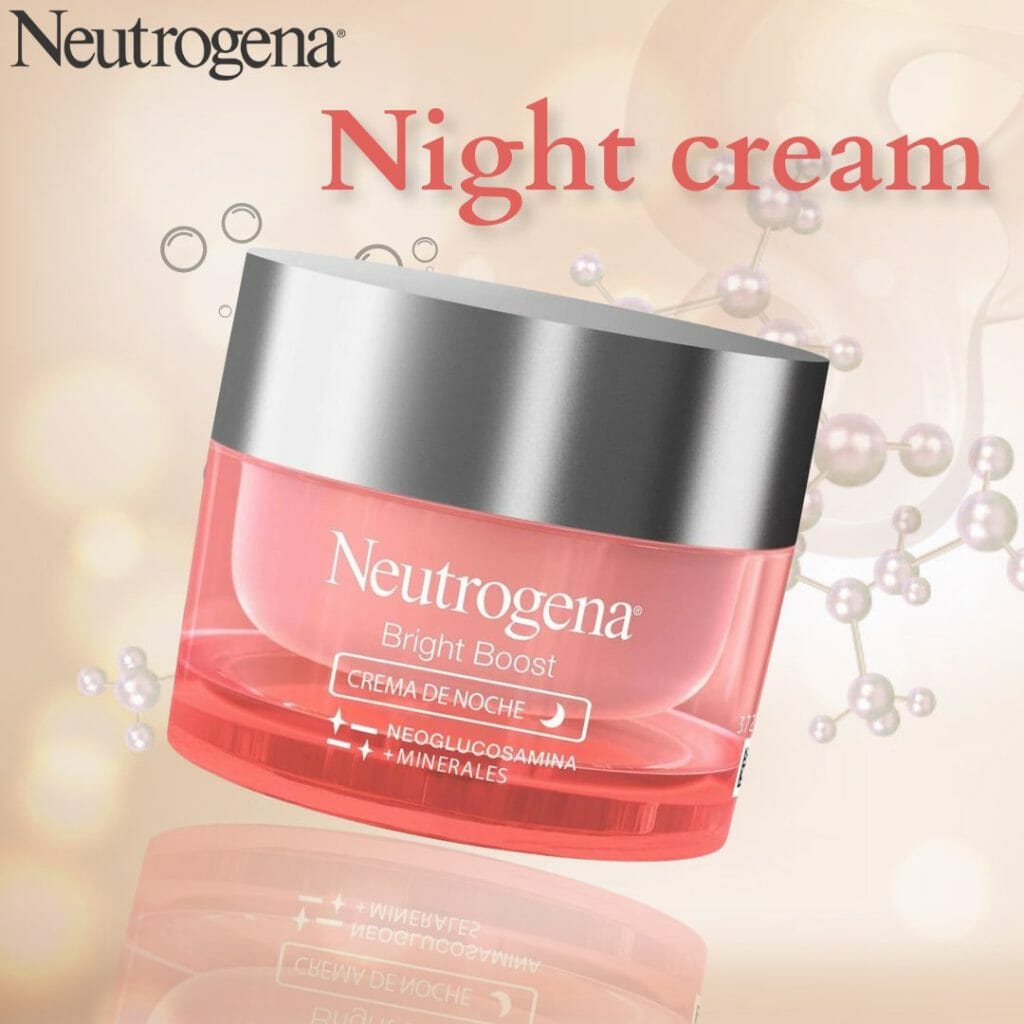 Dr Rashel
Dr Rashel is another high end brand of cosmetic and skincare products. Its products are dermatologically tested and certified. It offers some highly effective and moisturising products such as Dr Rashel Whitening Night Cream which is an efficient anti ageing and brightening night cream. It contains a highly powerful moisturising ingredient; hyaluronic acid. It is also enriched with antioxidants that protects your skin from free radicals and stimulates collagen production to brighten complexion and reduce fine lines and wrinkles.
Dr Rashel Vitamin C Night Cream is another nourishing night cream which is an anti ageing and brightening night cream. Along with vitamin C, this night cream has hyaluronic acid which vitalizes and moisturises your skin. It clarifies your complexion with deep and natural moisturising to reveal a naturally glowing healthy, youthful skin.
Another night cream by this brand that is worth trying is Dr Rashel Argan Oil Rejuvenating Night Cream. It is infused with the goodness of argan oil which decreases the appearance of fine lines, wrinkles and recovers tones and flexibility. With this night cream, your skin will feel smooth and intensely hydrated. It is a special overnight rejuvenator that brings radiance and glow to your skin.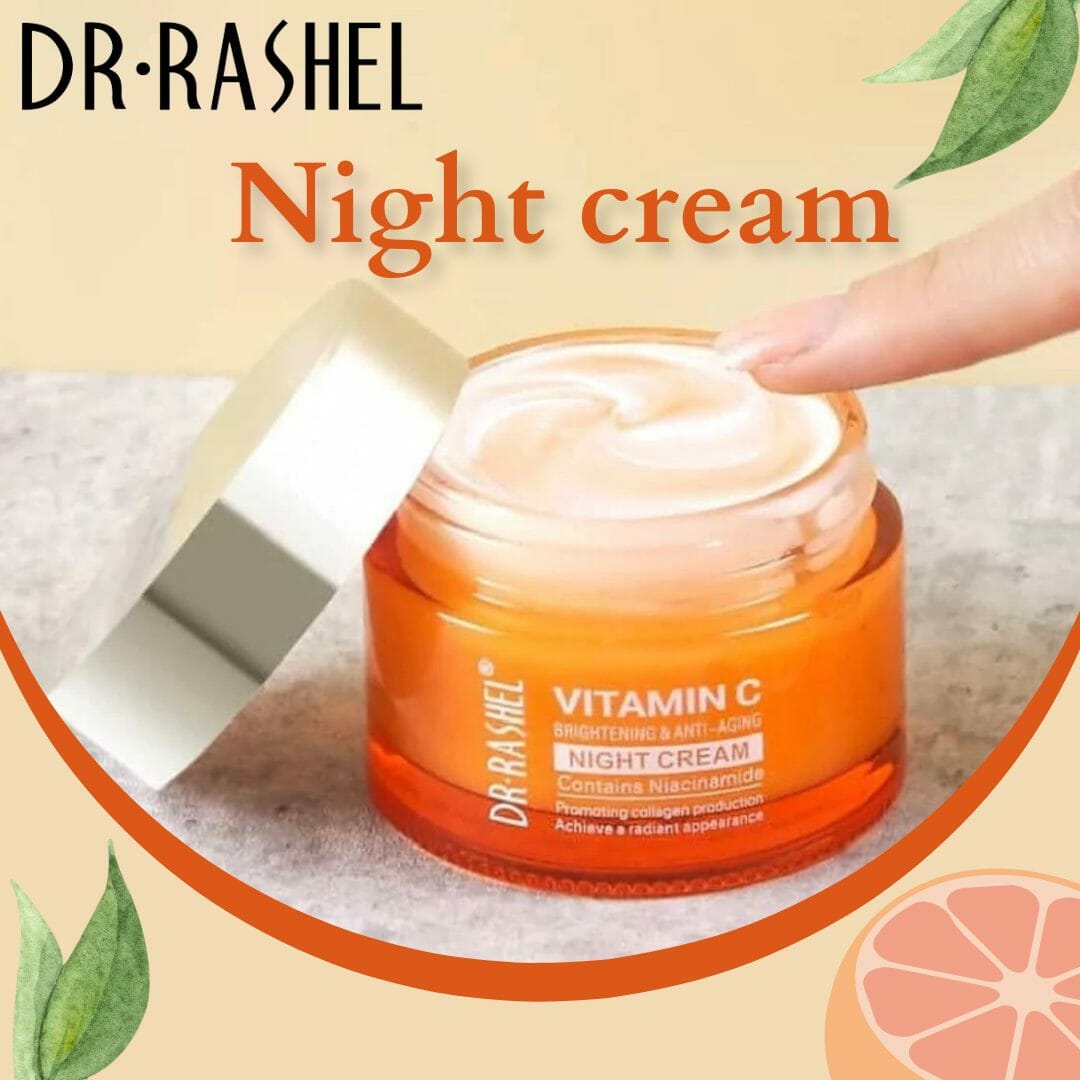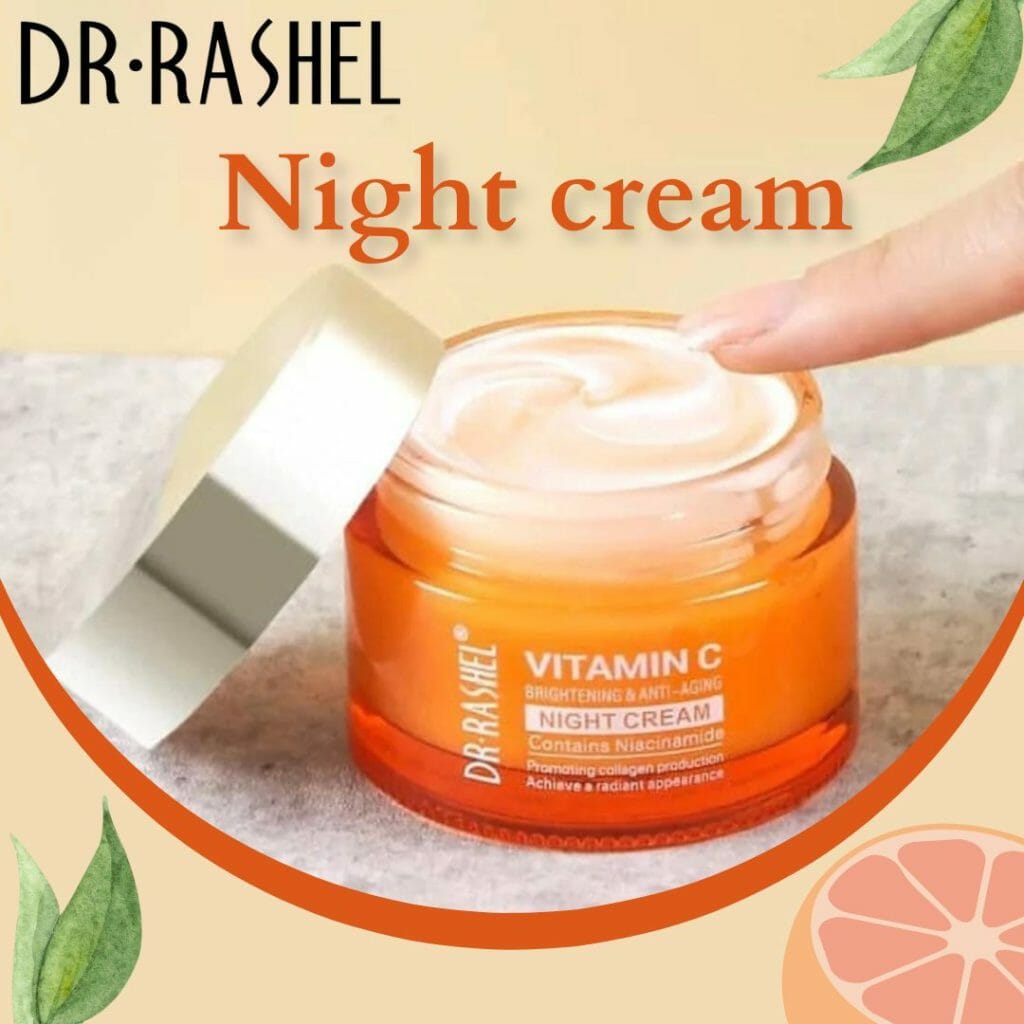 Olay
Olay believes in a diverse and inclusive standard of beauty which allows everyone to set his/her own definition of beauty which is free from societal bias or expectations. One of its best night cream is Olay Total Effect 7-in-1 Night Moisturiser. It is especially formulated with Niacinamide, Vitamin E, and Pro-Vitamin B5 to solve 7 skin problems. It exfoliates your skin for natural skin-renewal for healthier-looking skin everyday. It has a fast-absorbing, non-greasy formula that will not block pores.